There were over 11,000 attorneys registered in South Carolina in 2022, according to the American Bar Association (ABA). Therefore, it is understandable why searching for a good lawyer – such as a criminal defense lawyer in Greenville, SC – would seem like a daunting task to most people.
We'll explain some of the steps you should take when searching for a defense lawyer. Contact Boatwright Legal today for a free case evaluation.
Gather Referrals for Criminal Defense Lawyers in Greenville, SC
A great way to find a good criminal defense lawyer is to gather referrals and recommendations from your family members and friends. Your friends and family can also educate you further on the options considered by sharing their firsthand experiences with the lawyers that they recommend. 
When filtering through the referrals that you receive, take note of such highlights as the credibility of the source, the nature of the case, how many times they have worked with the referral source as a client, and the feedback received from their client regarding the overall experience.
Conduct Thorough Research on Each Lead Considered
Before investing your time, hope, and money into a defense attorney, take the time to research them thoroughly. There are several areas that you should focus on when conducting this research, including (but not limited to) their:
Knowledge & expertise
Communication skills
Courtroom experience
Client testimonials
Disciplinary record
To check the disciplinary record of the lawyer(s) being considered, the Commission on Lawyer Conduct may be able to help you. Formal discipline charges become public record nearly one month after the attorney files their official response to the charges. The Commission will be able to inform you of any applicable complaints on public record.
Interview the Attorneys During Your Consultation 
Contrary to popular belief, consultations with defense attorneys are not designed to be one-way interactions; the lawyer is there to ask and answer questions. Feel free to interview the attorney on such topics as their previous experience, knowledge of the specific crimes you have been charged with, and their overall track record.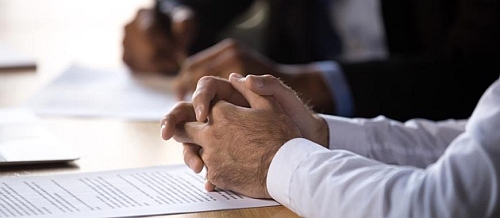 You can even ask about the credentials and applicable certifications that would reassure you of their skillset and ability to defend you skillfully and effectively inside and outside of the courtroom. You should also focus on how well you and the attorney are able to work and communicate with each other.
Is the attorney approachable and easy to talk to?
Do they explain things in a way that you understand?
Do they show a level of confidence and competence that you can trust?
Is a lawyer respected by others within their field?
You should feel comfortable with the lawyer to the extent of trusting your life in their hands – which is a practical step when you consider the severity of the charges filed against you.
Analyze Your Budget and Discuss Fee Structures
Another important part of searching for a good criminal defense attorney is to analyze your budget constraints to see what is affordable. Keep in mind that most criminal defenses are based on billable hours more so than flat rates – especially if it is not initially clear how much time the lawyer will need to invest in the case from start to finish.
Attorney fees are typically determined by agreements made between the attorney and the client. If a free consultation is offered, then you can have the pertinent details of your case analyzed by a legal expert in addition to getting accurate quotes for how much their representation will cost you.
When calculating the cost, make sure you focus on the long-term scope of the full case and just not the initial fees and upfront expenses. A skilled attorney will be able to break down the full timeline of your case to give you a realistic projection of how much time and money you both will need to spend.
Why Choose Boatwright Legal?
Ashaley Boatwright has years of courtroom experience and delivers unmatched attention and care for his clients. He listens to and understands the needs of those he defends.
He does not immediately try to convince someone to plead guilty. Instead, he discusses the evidence with the client and helps them understand the choice between a trial and a plea deal.
Contact Boatwright Legal today to schedule your free consultation. Doing so will allow you to experience the first-class service of a high-quality criminal defense attorney in Greenville, SC firsthand.