While Anderson County, South Carolina, is often celebrated for its picturesque landscapes and tight-knit communities, the residents and visitors might occasionally encounter situations that require legal intervention. Such scenarios, ranging from personal injuries to legal disputes, can disrupt the otherwise peaceful life in the county.
Boatwright Legal stands ready to assist those in Anderson County who are navigating these unexpected legal challenges. Our practice is deeply rooted in a comprehensive understanding of the nuances of local law, coupled with a commitment to personalized client service. We ensure that each case is handled with the attention and expertise it deserves.
If you're in Anderson County and find yourself in need of legal assistance, don't hesitate to reach out to us at 864-745-9758. Prompt action is essential in protecting your rights and working towards a favorable resolution.
Anderson County Overview
Located in South Carolina's northwestern region, Anderson County is an integral part of the Greenville-Anderson-Mauldin Metropolitan Statistical Area. The county, with Anderson as its seat, is recognized as one of South Carolina's prominent areas.
Surrounded by various counties, Anderson County lies adjacent to Greenville County to the northeast, Pickens County to the north, Oconee County to the west, Abbeville County to the south, and Laurens County to the east. As per the 2020 United States Census, the county had a population of around 202,558, marking it as a significant and growing area within the state.
The economic landscape of Anderson County is characterized by its diversification, moving beyond the agricultural base prevalent in the neighboring regions. The county stands out for its contributions to sectors like automotive manufacturing, healthcare, and higher education. Anderson County hosts several multinational corporations, emphasizing its role in the international economic arena. The county is also known for its cultural vibrancy, with the city of Anderson serving as a hub for arts, dining, and retail.
In terms of education, Anderson County is a center of academic excellence, hosting institutions like Anderson University and Tri-County Technical College, which enhance the educational and cultural fabric of the region.
Anderson County offers a harmonious blend of urban and natural environments. It boasts numerous parks and recreational areas, as well as the nearby Appalachian Mountains, which add to its allure for both residents and visitors.
Legal Representation in Anderson County's Court System
Anderson County, South Carolina, has a structured and comprehensive judicial system designed to address a wide range of legal issues. The county's court system includes the Anderson County Courthouse, Anderson County Family Court, Anderson County Magistrate Court, Anderson County Probate Court, and several municipal courts in towns like Anderson, Belton, and Williamston.
The Anderson County Courthouse serves as the central point for major civil and criminal cases. It is equipped to handle diverse legal matters, from minor offenses to significant criminal proceedings, ensuring justice and resolution for all parties involved.
Anderson County Family Court specializes in family-related legal issues, including divorce proceedings, child custody battles, and adoption processes. These cases are approached with sensitivity and a focus on the unique dynamics of each family.
The Magistrate Court in Anderson County is responsible for smaller civil disputes and minor criminal offenses. This court often represents the first interaction that citizens have with the legal system, handling cases such as small claims and traffic-related offenses.
Anderson County Probate Court deals with matters concerning wills, estates, and guardianships. This court plays a critical role in managing the legal dimensions of these deeply personal issues.
Municipal courts within Anderson County's towns, including Anderson, Belton, and Williamston, handle local ordinance violations and misdemeanor traffic offenses. They are integral to the local governance and legal enforcement framework.
Each court in Anderson County's judicial system has a distinct role, collectively ensuring the law is upheld and justice is served. Regardless of the nature of the legal challenge, from minor infractions to complex legal disputes, the county's court system is structured to offer fair and efficient legal proceedings.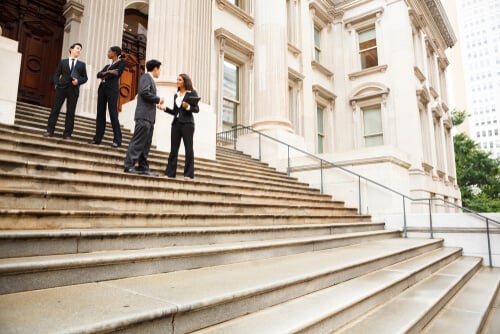 Anderson County Court Locations
Below is the contact information for the local courthouses in Anderson County, South Carolina.
100 South Main Street, Anderson, SC 29624
Phone: 864-260-4053
Website: Anderson County Courthouse
100 South Main Street, Anderson, SC 29624
Phone: (864) 260-4037
Website: Family Court – Anderson County
100 South Main Street, Anderson, SC 29624
Phone: 864-260-4049
Website: Probate Court – Anderson County
401 S Main St, Anderson, SC 29624
Phone: 864-231-2275
Website: Anderson Municipal Court
30 N Main St, Honea Path, SC 29654
Phone: 864-369-2466
Website: Honea Path Municipal Court
204 W Jackson St, Iva, SC 29655
Phone: 864-348-6191
Website: Iva Municipal Court
103 Courtney St, Pelzer, SC 29669
Phone: 864-947-6231
Website: Pelzer Municipal Court
310 Greenville St, Pendleton, SC 29670
Phone: 864-646-9409
Website: Pendleton Municipal Court
12 W Main St, Williamston, SC 29697
Phone: 864-847-7473
Website: Williamston Municipal Court
Anderson County Law Enforcement and Emergency Services
Anderson Fire Department
400 South McDuffie St, Anderson, SC 29624
Phone: 864-231-2259
Website: cityofandersonsc.com/firedepartment/
Belton Fire Department
Phone: 864-338-7048
Phone: (864) 338-7048
Website: cityofbeltonsc.com/home-page/departments/fire-department/
Pendleton Fire Department
108 S Depot St, Pendleton, SC 29670
Phone: 864-646-3666Williamston Fire Department
120 West Main Street, Williamston, SC 29697
Phone: 864-847-7473
Website: williamstonfire.com
Iva Fire and Rescue
Front St
Iva, South Carolina 29655
Phone: (864) 348-6566
Honea Path Fire Department
200 South Shirley Ave, Honea Path, SC 29654
Phone: 864-369-2976
Website: honeapathsc.com/fire-ems-department/
Powdersville Fire Department
10600 Anderson Rd, Powdersville, SC 29642
Phone: 864-263-7869
Website: powdersvillefire.org
Anderson County Fire Department
County Fire Chief: Jimmy Ray Sutherland
210 McGee Road Anderson, SC 29625
Phone: 864-260-4016
Website: acfd.org
Williamston Police Department
12 W Main St, Williamston, SC 29697
Phone: 864-847-7425
Emergency: 911
Website: williamstonsc.us/departments
Belton Police Department
306 Anderson Street, Belton, SC 29627
Phone: 864-338-8448
Emergency: 911
Website: cityofbeltonsc.com/home-page/departments/police-departments/
Pendleton Police Department
108 South Depot Street, Pendleton, SC 29670
Phone: 864-646-3839
Emergency: 911
Website: townofpendleton.org/police-department/
Iva Police Department
204 West Jackson Street, Iva, SC 29655
Phone: 864-348-6191
Emergency: 911
Anderson Police Department
401 South Main Street, Anderson, SC 29624
Phone: 864-231-2277
Emergency: 911
Website: www.andersonpd.com/
Honea Path Police Department
34 North Main Street, Honea Path, SC 29654
Phone: 864-369-0580
Emergency: 911
Website: honeapathsc.com/police/
Anderson County Sheriff's Office
Sheriff: Chad McBride
305 Camson Road, Anderson, SC 29625
Phone: 864-260-4400
Fax: 864-222-3962
Website: andersonsheriff.org
FAQ on Criminal Defense in Anderson County
What is the first step if I'm charged with a crime in Anderson County? Contact a criminal defense attorney as soon as possible. They can offer legal advice and ensure your rights are protected. Avoid discussing the case with others except your lawyer.
Can charges be dropped with the help of an Anderson County criminal defense lawyer? A criminal defense lawyer in Anderson County will assess your case to identify any grounds for having charges reduced or dropped, based on the evidence and legal nuances.
How does a public defender differ from a private attorney in Anderson County? Public defenders are provided at no cost if you cannot afford a private attorney in Anderson County. While both can represent you effectively, private attorneys may have more resources and time to dedicate to your case.
What are the potential consequences of a criminal conviction in Anderson County? Consequences can range from fines and community service to probation and imprisonment, depending on the severity of the crime. A criminal record can also impact future employment, housing, and educational opportunities.
Connect with Expert Criminal Defense Attorneys in Anderson County
In the intricate realm of criminal law in Anderson County, obtaining timely and proficient legal aid is crucial. Postponing the pursuit of expert legal advice can adversely impact your case's outcome. As time elapses, vital evidence may lose its effectiveness, and opportunities to develop a strong defense strategy may diminish.
At Boatwright Legal, prioritizing your rights and ensuring a just legal process is our foremost commitment. Facing criminal charges necessitates immediate consultation with a knowledgeable criminal defense attorney. Our seasoned legal team is committed to offering vigorous advocacy and tailored guidance for your situation. Contact us without delay for a consultation to start protecting your future. Reach out to our Anderson County office at 864-745-9758 for unparalleled legal assistance!